Unfortunately, there may come a time when a fan propeller is damaged during operation. It could break due to a foreign object striking it or possibly a build up from paint, dust or some other residue resulting from the environment in which the fan operates. Murphy's Law says it will happen at a critical time and production comes to a grinding halt. Time is of the essence and you need to get the fan back in operation as soon as possible.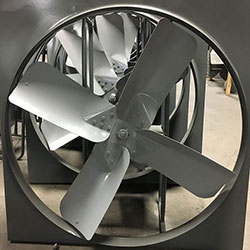 Propeller Selection Information
Before you contact Americraft, check out the list below and try to answer as many questions as possible. The first five are very important for selecting the optimal propeller that will best deliver the optimal airflow of the original propeller. However, the remaining five are also important in helping us fine-tune the selection, but we can help you determine these requirements as we work through the details of the TOP 5.
We've left you spaces on each item if you'f like to print this page to work through.
Top 5 – "Ideal to Know"
#1 ___________Size/Trim Diameter
The proper way to measure the diameter of the propeller is tip to tip. Don't assume the diameter based on the size of the fan. For example, the propeller on an Americraft 36" tube axial fan measures 35 ¼" tip to tip.
#2 ___________Propeller RPM
If you don't know the RPM of the propeller, for a belt driven application, provide the pulley sizes and the motor RPM. For direct driven fans, the fan speed is equal to the motor RPM.
#3 ___________Bore Size
The proper way to determine bore size for a belt driven fan is to measure the diameter of the fan shaft. For direct drive applications, reference the motor frame size.
#4 ___________CFM Requirements
This information is ideal in designing a propeller that will deliver the optimal air requirements. If CFM is not known, we will design the propeller to deliver the optimal CFM that the motor HP can deliver without overloading the motor.
#5 ___________Static Pressure Requirements
This information is also important to know when designing a propeller that will deliver optimal CFM without overloading the motor. Let us know if the fan is operating with ductwork attached or any other restrictions that would affect CFM.
5 "Nice to Know"
#6 ___________Bore Type (straight, trantorque, or taperlock) #7 ___________BHP Requirements #8 ___________Hub Location (air entering or air exiting) #9 ___________Construction Material (e.g. carbon steel, stainless, cast aluminum) #10 ___________Operating Temperature
Ready to contact Americraft to replace your fan propeller? Fill out our online form or give us a call Toll Free at 800-848-2938 or locally at 513-489-1047
.
https://americraftmfg.com/wp-content/uploads/2018/11/IMG_08211-cvmin.jpg
250
250
Jane Ceddia
https://americraftmfg.com/wp-content/uploads/2017/06/new_logo_small.jpg
Jane Ceddia
2015-07-14 16:24:50
2019-03-07 12:34:56
How to Select a Replacement Fan Propeller